How To Workshop: Make a Circuit Board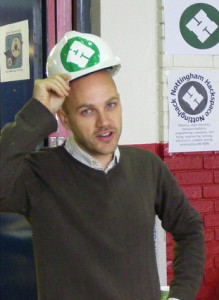 Get the basics of PCB (Printed Circuit Board) manufacture from Nottinghack's Matt Little (from our Soldering & Drawdio Workshops).
There are many processes and techniques for making a printed circuit board (PCB).
In this session Matt will guide you through his process for making PCBs
Matt uses a mixture of home-made and bought tools. He will highlight some of the problems and share some of the tips and tricks he's uses.
You will get to create and keep a circuit board for a simple LED flashing circuit (components included).
The circuit board layout is made using the open source software called KiCad (for both Linux and Windows). If you have a (small) circuit you would like created then bring along your completed PCB design and we can make that with you!
This session will cost £8. In this session we will develop and make the circuit board and (if time) you can solder up the circuit to create a simple LED flasher. All tools supplied.
Please do tell us about your own PCB manufacture methods
Don't want to make a circuit board? It's Open Hack Night so please do come and join us that's FREE as always! Only pay if you take part in the workshop!