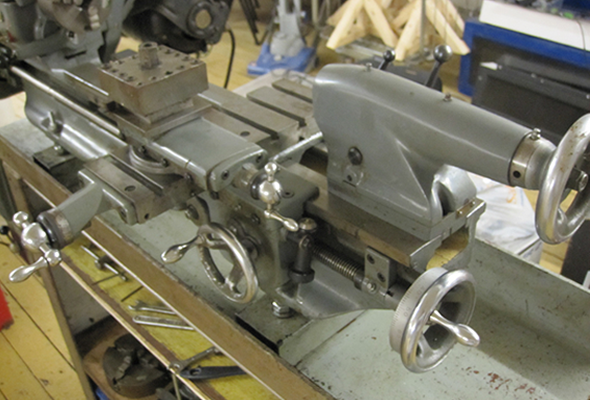 Myford Super 7 Lathe

A great sign of just how much Nottingham Hackspace has grown over the last 12 months is that it took less than a week to go from one random suggestion of getting a metal lathe. All the way though to a pledge drive that raised £260 to actual having our own Myford Super 7 metal lathe!
A metal lathe is a tool that should be on every Hackspace tool list and it has been on ours since the start. In the past we talked briefly about adding a fancy 3-in-1 lathe/mill machine. But the initial cost plus accessories and tooling left in way into our future plans. David recently had a few recommendations for the Myford ML7 lathe and has talked to a few people about possible getting one.
The Myford company started in 1934, was based here in Nottingham (Beston to be exact) and only closed it doors due to liquidation back in July of this year.
The ML7 lathe was launched in August 1946, retailing at £34.00 excluding motor.
Later replaced by the the Super 7 in April 1953 build around the same design but with number of new features and improvements. Both models have been very successful and often favoured by hobbyists and model engineers.
During open hack night David and 'RepRap' Matt started looking around eBay at used Myford ML7's and found the going rate to be almost within the hackspace's reach. Still interested next morning they suggested a pledge on twitter with in 48 hours our members had pledged £200. Matt started shopping around for a ML7. After few failed attempts over the weekend Matt secured a Myford Super 7 for the Hackspace. So a week later out new Super 7 Lathe arrived at the hackspace.
Since its arrival Matt has put a lot of effort into cleaning and setting up the lathe so that it is ready for use. Thanks to the excellent history of the Myford lathes that can be found online we have dated the lathe's production to around Janruay 1973. The lathe is in great condition and will serve the hackspace well for many years.Indeed they don't make them like they used to.