Make a rubber stamp workshop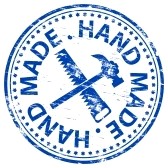 In this rubber stamp workshop you will take your image, adjust it to turn it into a stamp, cut it out on rubber using the laser cutter and make a handle out of wood.
This workshop will run on Thursday 26th April from 7-9pm.
Its going to be £5 which includes enough materials to make one stamp (around 3cm x 4cm), ink pad and time on the laser cutter.
If you would like, we will have materials available to make larger stamps.
Check out the wiki for more information on the process.
I'd really like to know numbers on this one, as I have to buy in the stamp pads, so please either reply to this thread, or email me (matt@re-innovation.co.uk) to book a place. Numbers are limited as we only have one laser cutter, so please let me know.