Keep Calm & Solder On
Announcing the 1st Monthly Social Soldering Night – Kit £10 Free to attend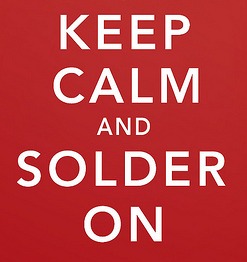 Soldering Night is a new regular meet up at the Hackspace. Each month a different soldering kit will be made available (at the best possible price) for you to solder.
The kits will be ideal for all levels of experience. This regular monthly event is aimed at the beginner and the more experienced.
Help and instruction will be provided where needed. All the tools you need will be on hand too.
This months kit will be the Drawdio adapted from the original design by Jay Silver. It is an oscillator that uses the graphite in a pencil and your body to make the circuit.
We hope that the monthly Soldering Night will become a social fixture in your calendar… We'll aim to get some really interesting kits in!