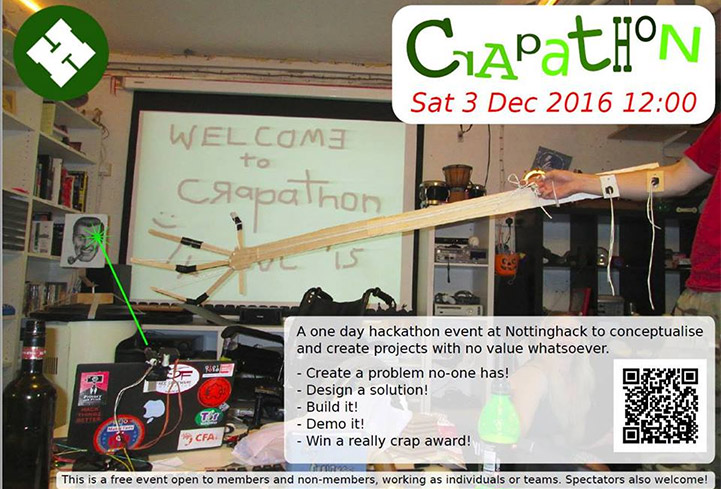 Join the Nottinghack Crapathon on Saturday, 3 December!
It's time again for the annual…
NOTTINGHAM HACKSPACE CRAPATHON!
Saturday, 3 December!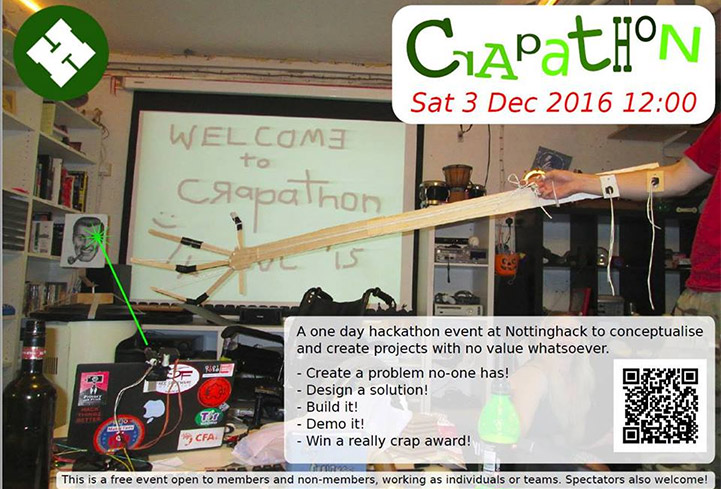 Conceptualise and create projects with no value whatsoever!
Create a problem no one has!
Design a solution!
Build it!
Demo it!
Win a crap award!
Rough schedule will be:
12:00PM – It starts! There's a spiel! You can use things! Go!
7:00PM – You're done! Stop making stuff! Eat food!
8:00PM – Demos! Voting! Awards! Socialise! (Bring a bottle)
Late: GO HOME!
Stuck for ideas? Some of the Crapathon 2015 entries were:
Suggestions box that automatically shreds and files all submissions
Robot that badly plays the Theremin so you don't have to
Automatic face-recognising laser blinder
An extended hand
Rocket salad launcher
A box for THE ONE TRUE GOD
A skin conductivity meter to measure your Scientology levels
A box of fucks (surprisingly empty)
This is FREE and OPEN TO THE PUBLIC.
Work individually or in teams. Spectators also welcome!