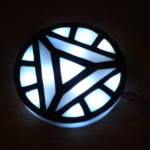 After the success of the first "Build Your Own Arc Reactor" workshop on Wednesday, 13th June, Hackspace member Martin Raynsford will be holding two more on Thursday, 21st June.
As seen in Iron Man, Iron Man 2 and The Avengers, the arc reactor keeps Tony Stark alive and powers the Iron Man suit. While your arc reactor will not keep shrapnel from entering your heart or run a large mechanical suit, it will be a light-up attachable prop ready for your costuming needs.
The full kit, with instructions, training and 100g of polymorph thermoplastic, will be £17.50. You can choose a Mark 2 or Mark 5 arc reactor, or both!
Register on EventBrite now for this event as spaces are highly limited.
For more details on the Iron Man Arc Reactor, please see Martin Raynsford's blog.