Fun With Shrink Plastic Workshop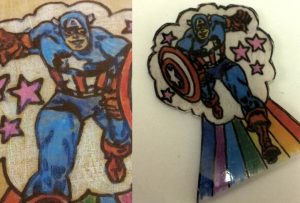 Join us on Saturday, 16 March, in our Shrink Plastic Workshop.
Shrink plastic is a piece of plastic that you can stamp, trace or draw an image on, colour it in using coloured pencils or markers, then it's shrunk down in the oven to a fine-detailed firm plastic piece that can be used as a mobile phone charm, keychain, brooch, magnet, pendant and more.
In this workshop, you'll receive at least one A6 piece of frosted shrink plastic, full instructions, and use of the markers and coloured pencils in the space, to make any number of small items.
This workshop is all ages, with parental accompaniment required.
There will be a small range of images you can trace from, but if you have a particular style in mind, please bring it in.
This workshop will cost £5 and will include the shrink plastic, use of the markers and pencils, any fixings you want to attach it to things, free tea or coffee, and a tour of the hackspace.
To sign up for the workshop, see our Eventbrite page.
If you have any questions, get in touch with Kate on kate@katebolin.com.