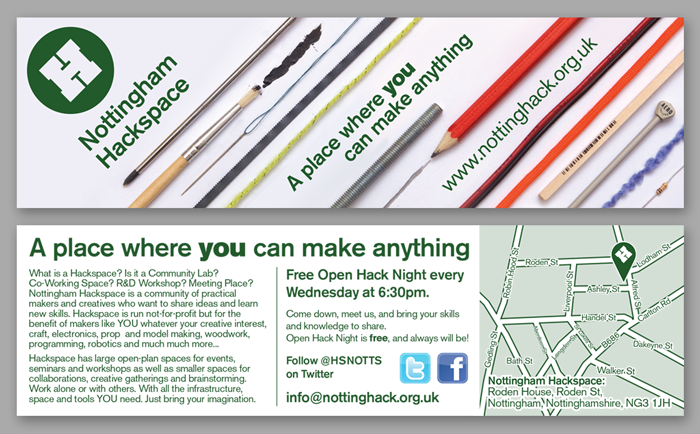 Nottinghack is a Nottingham based group for hackers, makers and crafty creatives!
Hacking is NOT to be confused with network hacking, identity theft and computer virus propagation, etc. Nottinghack does not condone anything illegal; hardware Hacking is a creative, educational hobby!
Who is it for? If you like to build, make & learn it's for you. You'll probably be interested in learning about and sharing knowledge of electronics, crafts, robotics, DIY, hardware hacking, photography, computing, reverse engineering, prototyping, film making, animation, building RC vehicles and other creative challenges and projects.
You'll be looking for a group who can share tools, techniques and time; pool resources for bigger projects, get funding, discounts on kits and components and start classes, all in a safe friendly environment!
Where?
We meet at our Hackspace, at the junction of Alfred Street South and Ashley Street, a few minutes walk from the National Ice Centre. We have WiFi and plenty of space (4300 square feet of it!), with areas for you to work on your projects, chat and have a coffee as well as kitchen and bathroom.
Who
Follow us on using the links at the bottom of the page.  Not on your favourite social networking system? Let us know!
Members might also like: Wired Magazine, instructables.com, hackaday.com, Make Magazine, Maker Faire, Mythbusters, Prototype This, NYC Resitor, fizzPOP Hackerspaces.org, Jimmy's Food Factory, Craft Mafia, HACMan, Mad Lab, adafruit.com, Sparkfun.com, oomlout.co.uk, Brainiac.
For more info about Hacking worldwide: http://hackerspaces.org/wiki/