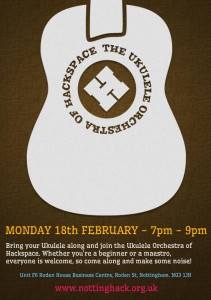 Do you enjoy the gentle strumming of a ukulele? Can you play one? Or do you want to learn?
Nottingham Hackspace is having weekly meetings of The Ukulele Orchestra of Hackspace, a group of ukulele enthusiasts who want to learn, play and enjoy this simple and beautiful instrument.
The meetings are held on every Monday, from 7pm to 9pm. Some ukuleles will be available to practice on, but if you have your own, please bring it in.
No experience is required, so if you're a total beginner or a ukulele maestro, come along and make some noise!
Find out more about The Ukulele Orchestra of Hackspace on the Nottinghack Wiki.
PLEASE NOTE: We will not be meeting on Monday, April 1st.